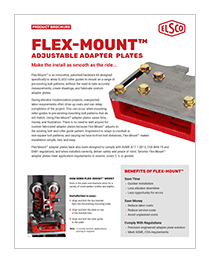 Make the install as smooth as the ride…
Flex-Mount™ is an innovative, patented hardware kit designed specifically to allow ELSCO roller guides to mount on a range of pre-existing bolt patterns, without the need to take accurate measurements, create drawings, and fabricate custom adapter plates.
This unique and easy solution minimizes elevator downtime and saves you valuable time and money. ELSCO's Flex-Mount adapter plates are purpose engineered and tested to meet ASME 17.1-2013 requirements.