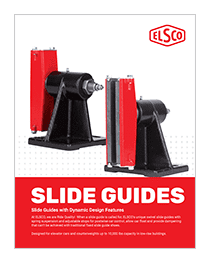 Slide guides with dynamic design features
At ELSCO, we are Ride Quality! When a slide guide is called for, ELSCO's unique swivel slide guides with spring suspension and adjustable stops for postwise car control, allow car float and provide dampening that can't be achieved with traditional fixed slide guide shoes.
Designed for elevator cars and counterweights up to 10,000 lbs capacity in low-rise buildings.