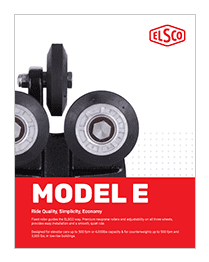 Ride Quality, Simplicity, Economy
Fixed roller guides the ELSCO way. Premium neoprene rollers and adjustability on all three wheels, provides easy installation and a smooth, quiet ride.
Designed for elevator cars up to 500 fpm or 4,000lbs capacity & for counterweights up to 500 fpm and 3,500 lbs, in low-rise buildings.