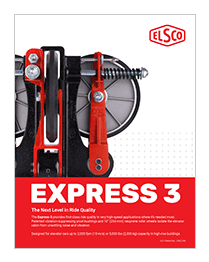 The next level in ride quality
The Express-3 provides first-class ride quality in very high-speed applications where it's needed most. Patented vibration-suppressing pivot bushings and 10" (254 mm) neoprene roller wheels isolate the elevator cabin from unsettling noise and vibration.
Designed for elevator cars up to 2,000 fpm (10 m/s) or 5,000 lbs (2,300 kg) capacity in high-rise buildings.