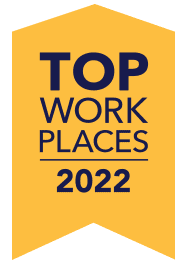 Owings Mills, Maryland, December 11, 2022 – Hamilton Associates, Inc. / ELSCO has been awarded a Top Workplaces 2022 honor by Baltimore Sun Top Workplaces. The list is based solely on employee feedback gathered through a third-party survey administered by employee engagement technology partner Energage LLC. The confidential survey uniquely measures 15 culture drivers that are critical to the success of any organization: including alignment, execution, and connection, just to name a few.
"Earning a Top Workplaces award is a badge of honor for companies, especially because it comes authentically from their employees," said Eric Rubino, Energage CEO. "That's something to be proud of. In today's market, leaders must ensure they're allowing employees to have a voice and be heard. That's paramount. Top Workplaces do this, and it pays dividends."
About ELSCO
At ELSCO, we've been manufacturing our comprehensive line of ride-quality-enhancing and noise-reducing elevator roller guides and swivel sliding guide shoes since the days of wooden rails.
Our deep experience in improving rider comfort, and attendant perceptions of building quality and safety, has earned us the industry's trust as the foremost experts in our field. It's why the ELSCO name is found in so many consultant specifications, contractor bids, manufacturer standard equipment, and elevator hoistways around the world – including six of the world's twenty tallest buildings.We back up our world-class products with customer service that goes the extra mile – from technical assistance and guide specification we are able to offer over the phone, to custom-engineered solutions for specialized applications, to the site visits we perform for customers all over the world helping to resolve difficult applications, to the speedy turnaround times we are able to provide on our products to help customers out of a jam.
About Energage
Making the world a better place to work together.TMEnergage is a purpose-driven company that helps organizations turn employee feedback into useful business intelligence and credible employer recognition through Top Workplaces. Built on 16 years of culture research and the results from 27 million employees surveyed across more than 70,000 organizations,  Energage delivers the most accurate competitive benchmark available. With access to a unique combination of patented analytic tools and expert guidance, Energage customers lead the competition with an engaged workforce and an opportunity to gain recognition for their people-first approach to culture. For more information or to nominate your organization, visit energage.com or topworkplaces.com.